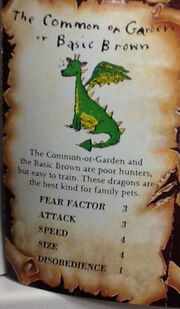 THE COMMON OR GARDEN AND THE BASIC BROWN
Description
Edit
The common-garden and the basic brown are so similar that they can be dealt with together.These are the most familiar breeds- the ones that we think of instantly when we say "Dragons". They are poor hunters but are easy to train.These dragons are the best kind for family pets, although as with a lion or a tiger, they should never be left unattended with very young children.
Statistics
Edit
Colours: green yellow and all shades of brown
Armed with:Basic teeth and claws....3
Defences:Prickley spines.....2
Radar:none...0
Poison:None...0
Hunting Ability:Lethargic Hunters...3
Speed:Swift in retreat...8
Fear and fight factor:Well when angry....4
Ad blocker interference detected!
Wikia is a free-to-use site that makes money from advertising. We have a modified experience for viewers using ad blockers

Wikia is not accessible if you've made further modifications. Remove the custom ad blocker rule(s) and the page will load as expected.